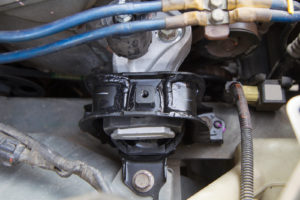 There are many potential reasons for odd noises or movements emanating from your vehicle's engine; one of which is a broken engine mount. Engine mounts secure the engine to the chassis and dampen the constant vibrations caused when the motor is running. Best Auto Repair in Longmont has experienced technicians to quickly diagnose the cause of unusual car sounds or shakiness, and will expertly repair the problem- be it a broken engine mount or other damaged part.
Top 3 Signs of a Broken Engine Mount
Clunking Sound- Thuds or banging noises coming from your engine, particularly when going over bumps, is probably the most common sign of a damaged mount. Impact noises are also noticeable when accelerating.
Significant Vibration- Since one of the main functions of the engine mount is to absorb engine vibration, if the rubber component is worn then you may notice some increased shaking in the cabin.
Engine Movement- If you suspect that a mount is broken, you may want to observe how stationary the engine is when running. A properly secured motor will not move up, back nor side to side in the bay.
As you can imagine, keeping the engine stable is critical for proper function, and if a mount is damaged then other components are being stressed and could fail sooner due to the added strain. If you notice any signs of a broken engine mount in your vehicle, bring it to the ASE certified technicians at Best Auto Repair in Longmont for a quick diagnosis and fix! Don't delay addressing a small repair and risk having it turn into a major problem- call us today at (720) 652-7272!