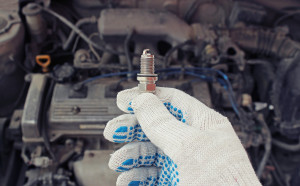 As Colorado car owners, we all know that starting up the engine during winter is a little rough. Cold weather can be especially hard on spark plugs, so if your car is not running smoothly bring it to the expert diagnosticians at Best Auto Repair in Longmont to see if a new set of plugs is all you need!
Spark plugs are a small part of the engine but essential because without them, your car is not going anywhere. Since they are utilized every time we start our vehicles, it is understandable that they eventually wear down. Two common problems are fuel residue buildup and a lengthening between the electrodes. When the plugs start to show their age, or a faulty one is installed, there are some telltale signs that they need replaced.
6 Signs that Your Car Needs New Spark Plugs
Slow to start- If your ignition is sluggish, worn out spark plugs are just as likely to be the reason as a low battery.
Engine jolts- When too much air is taken in during combustion, the engine may surge right before decelerating, which is another sign of a faulty plug.
Engine hesitates- Opposite from surging but also caused by a bad plug, your engine may pause for a second while driving due to improper firing of the cylinders.
Weak acceleration- Old spark plugs can also diminish the normal rate of acceleration you expect from your vehicle.
Rough idling- If your engine is rattling or jerking when you're stopped, the plugs most likely need replaced.
Higher fuel consumption- Fuel economy can be reduced by 30% when spark plugs are not efficiently performing combustion.
Faulty or old spark plugs will effect the performance of your car's engine, but fortunately a new set is an inexpensive and quick fix- so drop by Best Auto Repair of Longmont today to ensure smooth starts this winter!