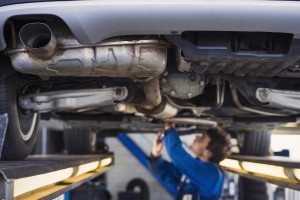 The basic purpose of an exhaust system, including the muffler and all components, is to reduce noise and carry harmful fumes away from your vehicle.  If you have a good exhaust system it will perform quietly and efficiently without a thought from you. For your safety and the safety of those who travel in your car, it is essential to have a functional exhaust that is examined and maintained regularly.  In order to have that blissfully quiet vehicle, make sure to have your muffler, exhaust service and repair done right.
Best Auto Repair Longmont offers quality exhaust, muffler repair and replacement.
Best Auto Repair of Longmont offers a full line of exhaust and muffler services and top quality replacement systems. When having your exhaust repaired or replaced, it's a good idea to have a professional mechanic with experience handle it.  A good auto repair shop will be able to accurately diagnose your exhaust needs and offer several choices in repair and replacement options while keeping your time, budget and convenience in mind.
Some signs that your muffler and exhaust system is in need of repair are quite obvious, the loud noise, funny smell, visible rust or bent pipes.  But don't wait until the noise and/or fumes drives you crazy before heading to a car repair shop.  Driving on broken exhaust systems can damage other key components of your vehicle and lead to more expensive repairs.  I minor fix is always better than a complete replacement!
Having your car, SUV, truck or minivan examined regularly will provide a great deal of peace of mind.  The ASE certified mechanics at Best Auto Repair Longmont have you covered.  We are the muffler and exhaust system experts.  We do standard replacement exhausts as well as upgrades to high performance exhaust systems for maximum power.  Have one of our mechanics assess your vehicle today.  Our basic review will include
Examining the muffler for holes, rust, overall wear
Checking all mounts are secure
Assess condition of catalytic converter
Checking manifolds and gaskets for cracks, wear tear
Best Auto Repair Muffler and Exhaust System Services
Mufflers: Both stock replacements and high performance
Exhaust Pipes/Tailpipes: Pre-bent and ready for install and pipe bending for custom exhaust.
Catalytic Converters: Keep those emissions in check!
High Performance and Custom Exhaust Systems