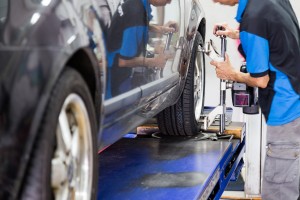 Just how important is proper wheel alignment? We know it can be yet another item on your to-do list—make sure tires are properly aligned.  But, as auto care specialists, we can tell you that, yes, it's very important to keep your wheels in good condition and aligned.
Tires, and many other car repairs, are not cheap.  No one wants to have these expensive auto parts wear out before their time.  Poor wheel alignment can lead to problems with your brake shaft, suspension system, steering system, and more.
Just driving in Colorado can do a lot of damage to your wheel alignment.  Hitting potholes, driving over chunks of snow and ice on the road, accidentally hitting a curb.  All of these can lead to alignment issues.
Why Get Your Wheels Aligned?
Reduces Tire Wear, (adding thousands of miles to the tire life!)
Improves Gas Mileage
Improves Car Handling
It's Environmentally Sound
Makes for a Safer Driving Experience
Improper wheel alignment has a few very obvious signs like steering wheel pulling to one side, less responsive steering, and uneven tire wear.  But some alignment issues are not as obvious.  That's why it's a good idea to have your wheel alignment checked on a regular basis.  Many manufacturers don't list wheel alignment as part of the regular maintenance schedule so it's up to you as to how often you have it checked.  Best Auto Repair suggests having your alignment checked at least annually.
Best Auto Repair, located in Longmont, offers precise wheel alignment services for cars, trucks, SUV's and vintage vehicles of all makes and models. We us the Hunter Hawkeye wheel alignment system to ensure the most precise alignment possible. Hawkeye is the high-definition, high precision, top-of-the-line wheel alignment system so our auto technicians can align your wheels to the exact manufacturers specifications.
If you're experiencing any of the standard wheel alignment issues with your vehicle, or you simply haven't had your alignment checked in a while, give Best Auto Repair in Longmont a call.