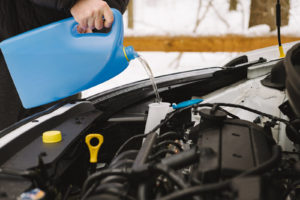 "One of the easiest- and, perhaps, most important- ways to maintain your car is by regularly checking fluid levels" says Tom Moor of Angie's List. Whether your vehicle is due for an oil change or you are planning a road trip, trust the experienced mechanics at Best Auto Repair in Longmont to conduct a thorough fluid check to keep your car in optimal driving condition.
Car Fluid Check
Oil– After wiping the dipstick and removing it again, the level should not be below marking and the oil should not appear dirty- if it is, then it's time to schedule an oil change.
Transmission fluid– Unlike engine oil, newer cars often do not have a transmission dipstick for owners to check the level themselves. Mechanics can assess the level and state of transmission fluid as part of an oil change- if it is dark brown or smells burnt, it needs replaced. Typically transmission fluid lasts for 30,000 to 60,000 miles.
Power steering fluid– Some tanks have a dipstick while others are designed to be assessed by just removing the cap. Consult your vehicle's manual to know when to change the power steering fluid- the recommendation can range from every two years to every 100,000 miles.
Coolant– The coolant reservoir is transparent so you can easily assess the amount remaining. If more is needed, make sure the coolant is premixed and does not need to be diluted by half with water.
Windshield wiper fluid– Especially important to maintain during the winter, windshield washing fluid is also stored in a transparent tank for instant visible assessment. And just like when checking the oil or coolant, it is important to wait until the engine is cool before checking wiper fluid level.
Brake fluid– Also housed in a translucent reservoir, the master cylinder for brake fluid is located near the back of the engine. Brake fluid should be changed every 45,000 miles on average.
If you suspect any of the above fluid's are running low in your vehicle, bring it in for a thorough car fluid check by the ASE-certified technicians at Best Auto Repair in Longmont.