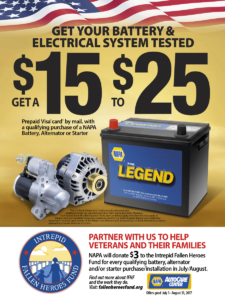 Usually a vehicle's alternator lasts for 7 years or 100-150,00 miles so it's not a part that car owners have to think about much, but when it starts to fail you will notice! That's because the alternator is essential in powering all the electrical systems of a car from the headlights to battery. The experienced mechanics at Best Auto Repair in Longmont can quickly diagnose any alternator, starter or battery problem and if a replacement is needed, you can save on a new part during our current special!
Signs You Need a New Alternator
Warning Light: Most dashboards display a light in the shape of a battery to indicate a problem, but some will say "ALT" or "GEN", for alternator or generator issues. If the alternator's output goes outside the normal operating range, usually between 13-14.5 volts, then the car's computer will illuminate the warning light.
Dim Lights: When the alternator is on its way out, electrical systems in the car may start to act up- for example, dim headlights, slowed power windows or weak heated seats. Many vehicles are programmed to switch off electricity to non-essential components first so the radio will quit before the headlights go.
Burning Smell or Growling Noise: If the alternator's pulley is out of alignment or getting stuck, then you will smell burnt rubber. If the alternator is overheating, then you'll smell hot wires. And you might also hear a growling or whining noise if the pulley is not in correct alignment with the belt or the bearings are worn out.
Dead Battery: When an alternator starts to go bad, the battery will act as a capacitor by by taking in constant electrical power. However, batteries are not designed to provide power for very long so if they try to make up for a failing alternator, they will eventually give out.
Bad Connection: If the alternator is still producing electricity but there is a loose connection or faulty wire, then you will sometimes notice abnormally bright cabin or headlights when the alternator tries to overcome the resistance by surging more energy through the lines.
If your car is showing any of the above symptoms or you suspect something is wrong with its electrical system, bring your vehicle to Best Auto Repair in Longmont for a quick test to pinpoint if the problem is due to a bad alternator, starter or battery. And now through August, receive a $15-25 Visa card with the purchase of a NAPA new alternator, starter or battery!