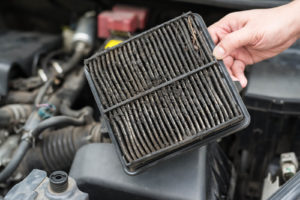 Did you know that your vehicle's engine uses up to 10,000 gallons of air for every gallon of gas consumed? Having a clean air filter is vital for your car's ability to function optimally: it improves gas mileage, acceleration, and overall performance while also reducing emissions and prolonging engine life. Best Auto Repair in Longmont is offering a deal now through the end of April when you install a NAPA air filter with an oil change, you'll get $15 instant savings!
5 Reasons to Change Your Car's Air Filter
Extends Engine Life– The function of the air filter is to prevent dirt and other particles from entering the system. The internal components, such as the pistons and cylinders, are especially prone to damage from small pieces of debris.
Better Fuel Efficiency– One study claims that regularly changing the air filter will boost your vehicle's gas mileage by 10%. Another showed that acceleration increased 6-11% when a clogged filter was replaced.
Decreased Emissions– When air flow to the engine is reduced, the emission control system may inaccurately calculate the proper air-fuel ratio which could also lead to increased engine deposits. The spark plugs could also begin to fail should they become too dirty.
Valuable Prevention– Your vehicle's owner's manual will state the recommended schedule for changing its air filter, usually between every 12,000 to 15,000 miles. Swapping out an old filter for new is a quick fix for preventing many potential problems.
Inexpensive Maintenance– Replacing the air filter is low-cost upkeep and is even more affordable now with the current air filter coupon available at Best Auto Repair through the end of the month.
Take advantage of extra savings on a new air filter this month at Best Auto Repair in Longmont and enjoy your car's increased performance!
Source: http://www.carsdirect.com/car-maintenance/5-benefits-of-changing-your-air-filter