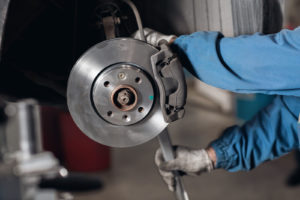 The most common clue that alerts drivers to a problem with their brakes is hearing a high-pitched screech when stopping. If you hear this sound frequently (and not just after your car has been sitting in wet conditions), then an appointment with a mechanic is in order. Best Auto Repair in Longmont can make any necessary brake repair in a short amount of time and at a competitive rate.
Signs that Your Car Needs Brake Repair
Pulls to left or right when braking. If this happens, the brake linings may be unevenly worn or the brake fluid might need replaced if a contaminant has gotten in.
Less resistance when pressing on pedal. Reduced responsiveness is usually a symptom of a fluid leak or air leak in the hose. Another sign of a brake fluid leak is a puddle accumulating under your parked vehicle.
Grinding sound when braking. This jarring noise is caused when the disc and caliper rub together because the pads have worn away. The rotors may then need to be evened out or replaced if they have become too deeply scratched.
Vibrating feedback when stopping. If the pedal shakes when depressed, most likely your car's rotors are warped. The rotors surface becomes uneven from extended periods of intense braking, like when towing or on a steep downhill. This sensation is just like what happens with anti-lock brakes on a sudden stop.
In addition to the above warning signs, you can also visually inspect your brake pads through the wheel's spokes to make sure there is at least ¼ inch remaining. Most drivers assume that their vehicle's brakes are in good working order unless they hear or feel something amiss but regular brake maintenance should not be overlooked. Best Auto Repair of Longmont can help prevent expensive future bills and ensure that your car is in safe-working order by conducting a thorough inspection and doing any needed brake repair.