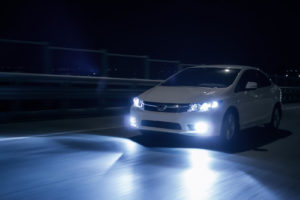 Few driving situations are more stressful than trying to navigate at night with weak headlights. Proper lighting is so important for visibility- both for the driver to see and be seen by other drivers! Faulty headlights will start showing signs that indicate they need checked- see the top three symptoms listed below. And since headlights are so important for safety on the road, don't hesitate to bring your vehicle into the trusted mechanics at Best Auto in Longmont for a quick diagnosis and repair.
Top 3 Signs Your Car Needs New Headlights
Dimness– The most surefire sign that a bulb is nearing the end of its life is that it shines noticeably dimmer. Low illumination is not a condition you want to drive with for very long since properly functioning headlights are critical for safety.
Flickering– When the filaments start to wear out or become damaged, you will most likely notice the lights flickering on and off. This is a sign that the bulb will burn out very soon or it could also be a symptom of a bad connection so bringing your vehicle in as soon as possible for an inspection is a good idea.
Burn Out– Obviously if one headlight has completely failed, it makes sense to get both replaced at the same time since the opposite light will be approaching the end of its serviceable life as well. Headlight bulbs usually last for a significant amount of time but they will eventually wear out, which is yet another reason to schedule routine maintenance service and prevent impending burn outs.
There are as many types of headlights as there are car models- they come in numerous shapes, sizes and designs. Finding an auto repair shop with a large selection of bulbs in stock, or the ability to order some quickly will prevent a long wait at the shop. Headlights are one of the most important safety features on a vehicle, so if your car is showing any of the above symptoms of failing bulbs, don't delay in having it diagnosed. The ASE-certified technicians at Best Auto in Longmont can quickly determine if your vehicle simply needs new headlights or if the lighting problem is due to a bigger electrical issue- call for an appointment today!