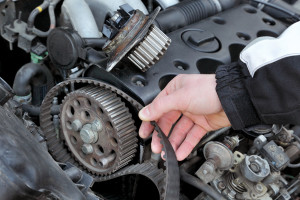 With Labor Day right around the corner marking the end of summer, perhaps you're starting to think about home maintenance to prepare for cooler temperatures. Now is also a good time to schedule a maintenance appointment for your vehicle, especially if the odometer is approaching 70,000 miles. The professional mechanics at Best Auto Repair in Longmont perform thorough maintenance checks to catch potential problems like a worn timing belt before they cause major damage to your car.
The timing belt is crucial to the smooth operation of the engine through controlling valve regulation by connecting the camshaft to the crankshaft. When it breaks, the pistons start striking against open valves, the engine stalls and your car won't restart. This critical part is durable but will start to wear out over time and needs to be replaced between 70,000 to 110,000 miles.
Signs a Timing Belt Needs Replaced
Major exhaust: If your car begins to emit significant smoke, the valves may not be operating correctly and causing the fuel to burn improperly.
Peculiar vibrations: The engine's rhythm will become irregular if the timing belt loses teeth or elongates.
Trouble starting: The timing belt should be checked to see if it is the cause of ignition difficulties.
The cost of timing belts varies but is typically only a couple hundred dollars while the engine damage that can be caused from a broken belt often runs into the thousands. Call Best Auto Repair in Longmont today for a quote on a timing belt replacement and other affordable maintenance services.