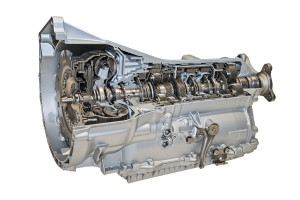 One of the most complicated and basic components of a vehicle is the transmission.  It's, essentially, how the power gets to the wheels of your car.  If your car doesn't move it's pretty much useless.  With that in mind, you can understand why transmission maintenance, repair, and service are so important.  Transmission service providers become very important to the overall health of your vehicle—so you should always looks for a qualified, trusted, and capable auto repair shop and mechanic.
Your first priority is to keep your vehicles transmission well maintained and serviced regularly. Prevention is always the best course of action.  Your car is a big investment and no one wants a transmission repair, rebuild, or full replacement when it could have been prevented.
How Do I Know my Transmission is Failing?
Here is a list of common transmission warning signs:
Leaking Transmission Fluid (bright red, sweet or tart smelling)
Warning Signals Light Up (Newer Vehicles)
Transmission Levels Measured via dipstick (Not sure how to do that? Come in to our shop and let one of our transmission experts do it for you!)
Vehicle Making Noise—manual transmission will be a grinding noise when shifting, automatic transmissions will start to have noticeable problems shifting between gears with whining and/or buzzing.
Your vehicle is meant to move through gears seamlessly. Any hesitation in doing so is a sign of trouble with your transmission every time.
If you do find yourself with transmission problems, Best Auto Repair of Longmont is your best choice for transmission repair, rebuilds, and replacement.  Our highly qualified mechanics are ready to deliver their knowledge and skills to get you back on the road.  We invest in the latest technology and equipment for any transmission repair service—for all makes and models of cars, trucks, and SUVs.  We have the best auto mechanics in town who have the experience to handle all kinds of transmission problems so we welcome custom transmission rebuilds, older and vintage vehicles.
We have a long standing commitment to our customer satisfaction.  We promise to diagnose your transmission problems expertly and honestly.  Many transmission shops will commonly recommend repairs and rebuilds that are either not necessary or just as costly as a new transmission altogether.  We promise not to remove a transmission unnecessarily in order to complete a repair and we promise to give you an honest assessment of repair vs replace options.
Best Auto Repair realizes there are plenty of auto repair shops in Longmont to choose from and that is why we strive to provide quick and courteous repair service to all of our automotive transmission clients.