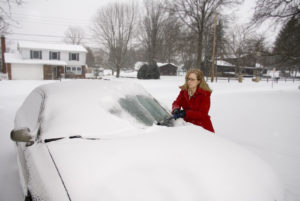 Looks like the official 1st day of winter will bring with it a long-lasting cold front for the end of 2017. To prevent the headache of car problems on your daily commute and holiday travels, be sure your vehicle is ready for winter weather! The ASE-certified mechanics at Best Auto in Longmont will conduct a thorough winter auto tune up service at an affordable rate.
5 Cold Car Problems Avoided with an Auto Tune Up
Dead Battery– Keeping cars out of the cold overnight is ideal, however if you don't have access to a garage, having the battery tested is even more important. Batteries are most reliable between 30 and 90F, so checking the level before winter weather hits will ensure dependable starts every morning.
Thick Fluids– When the temperature drops below 35F, the transmission performance will slow down. For your vehicle to run properly, fluids need to flow quickly so check the levels of oil, antifreeze, power steering, brake in addition to the transmission fluid to make sure there are adequate amounts to move through the systems.
Tire Pressure Drops– For every 10 degrees that the temperature drops, 1 psi of pressure is lost. Under-inflated tires are more prone to being damaged and a safety concern, particularly when the roads are covered in snow and ice. Of course, the best option, if feasible, are winter tires but keeping the pressure up in your all-season tires is a close second.
Wipers Fail– Unfortunately, wipers are not capable of clearing accumulated snow and ice from the windshield- that's still a job for the car owner. Wiper transmissions can also break due to frozen washer solvent. And since the blades are just made of rubber, they will breakdown sooner in harsh conditions and need to be replaced.
Spark Plugs Weaken– You can count on some hard starts when the weather is freezing, and if a spark plug is already damaged or older then your engine may not turn over reliably.
Many of the problems listed above can be prevented by catching them during regular maintenance. Don't get caught in the cold- call Best Auto of Longmont today to schedule an extensive yet inexpensive auto tune up service this winter!
Source: https://www.accuweather.com/en/weather-news/five-ways-cold-can-damage-your/22612192